By mark on Aug 14, 2011 | In News, Fixing stuff | 6 feedbacks »
Or was it J'accuse? Its been a stressful week. Where we left her drying was not a kind place to leave a boat, so she picked up a few scars.
High water today was high enough to shift her a few yards to somewhere much more suitable for a few more days till we can get some craneage organised. Anyhoo, got there while she was still high and dry and had a good poke about. timbers are all rock solid, so no nasty plank surprises and the culprit that caused all this commotion was easy to spot.
whatever was in the seams - and iy feels like concrete fell out a while ago. stuffed it from the inside out with white lead and cotton to stem the flow last week
So the plan, carried out flawlessly and in a very relaxed manner which even included and interval for sausage and chips in the clubhouse, was to move the barge and rope Pansy over to the gantry where she will hopefully be a bit less stressed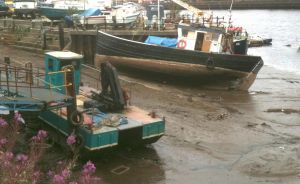 not a nice place to lean, there's a drop off on the slip and a dog leg on the wall so a very uncomfortable twisty place to lie
Next part of the plan, will hopefully come together this week. Big crane and lift her clear of the water and onto the hard properly for the first time in years - time/tides are not in our favour this week, so gonna have to keep fingers and toes crossed and see what we can achieve
6 comments
Comment
from: Len [Visitor]

Your storyline of the last few days events had me lol.
There is no way I was going to hold you to ransom. But mmm good idea.
Sometime when I get organised and you have recovered from the event I will post the pics for you to do with as you wish.
08/15/11 @ 09:06
Comment
from: mark [Member]

you could always email them to me!
08/15/11 @ 09:29
Show me the photos!
08/15/11 @ 10:50
I'd like to see them Len, nothing can shock me now Pansy wise. If you've got video of the tow out of the marina, please keep that to yourself, it may be used in a court of law!
08/19/11 @ 22:17
The photos will show a radio aeriel and radar array sticking out of the water and a lot of people sucking their teeth standing on a dry pontoon. Bastards! The tide had dropped a bit, the deck was beginning to be exposed bit was still a good half a foot in the drink. One of the marina tourists stolled by and said - "There must have been some rain last night see how much is swashing around on the floor of that ship." I did shout a few words - a sample of which were - fat sunk stupid it's fool you fuck now off alone leave me
08/19/11 @ 22:29
Pirates!!!!!!!!!!!!!

And I've got them photos........Ooooaaarrrr!
08/20/11 @ 19:35

Comment feed for this post
Leave a comment