By mark on Dec 8, 2009 | In Fixing stuff | 5 feedbacks »
no hang on thats the wrong way round, you get the idea though. Got down there bright and early. Operation cover boards underway. A couple of pieces of oak I had been coveting and had squirreled away for the purpose where whipped out of their damp dingy hole (that'll be anywhere inside the boat then) planed up to the right sort of width & thickness and chopped up to suit the holes as I went along. Had to get radical with angle grinder and sledgehammer first though in order to remove the Land of The Giants size mooring cleat. The neighbours must have been pleased listening to that as they ate their Frosties this morning
The cover boards have come out alright as it happens, done all down one side, right up to the pointy bit at the front... where in a fit of pique I decided to start attacking another major grot spot - top shear plank and rubbing strake. Achieved using the hanging over the side of the boat upside down with a mash hammer and chisel technique... got the nasty bits off though, so next mission is going to be the replanking and rubbing strake. I've got no larch for the planks though so might have to go hunting for some. Had a major find at the weekend though for the rubbbing strake. Rarer than a rare thing in this day and age. Some seasoned English Rock Elm. So now spoilt for choice for the rubbing strake & beltings Oak or Elm?
Gonna go back and get a bit more of the Elm though as I realised today, some of the planks that I was offered were perfect for a new rudder. 24" wide, 3" thick and 14' long should do the job nicely.
So, operation cover boards mission accomplished, well half accomplished any hoo....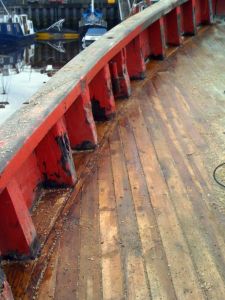 Bit fiddle shaping the zillion angles involved but they're in, caulked with masses of cotton and the seams sealed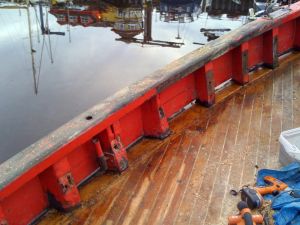 looks canny though. Just needs a string bending to fit and then the Comedy sized Cleat refitting.
One good thing about removing the big cleats though, which were fastened through the frames with huge bolts and big steel pads.... It means that the name boards can go on. She can have her name back for the first time in years.
5 comments
I found a great source of long lengths of pitch pine, that I used for re-planking. Try Lawsons Sawmills, New Lane, Bursough, Nr Ormskirk. It's all old stuff, but really clear, and in good nick.
12/08/09 @ 23:41
Comment
from: mark [Member]

pitch pine is good! I like pitch pine. Someone may need to take my planes away though to stop me shaving bits off to smell!

cheers for that though, off to track em down right now!
12/08/09 @ 23:46
Comment
from: Gerry N, in faraway exotic Washington State., USA [Visitor]

I was reading and saw you use the term "Fit of Pique" I nearly fell off my chair. Someone who actually speaks English. Who knew? Hereabouts it's usually "peek" or "peak". Mustn't damage the little darling's psyches by correcting them in the third grade, must we? Thus we have teachers with PhD's who can't spell their own names correctly three times out of five. But they feel good about themselves.

Keep up the good work.

Gerry N., shipwright, retired. N. of Seattle, U.S.A.
12/27/09 @ 01:14
Comment
from: mark [Member]

aye, I suspect we are a dying breed!
12/27/09 @ 03:06
Comment
from: charlie_thompson [Member]

Aye he's a topper little speller the skipper! I saw the word "Germane" used in an e-mail recently (correctly) it made my day.
01/11/10 @ 20:26

Comment feed for this post
Leave a comment