By mark on Apr 11, 2009 | In News, Fixing stuff | Send feedback »
So the surveyor man, came & went - we wish him a speedy recovery. Actually, it all went well really, didn't find much we hadn't already discovered, his nods as good as a wink as far as the insurance wallers are concerned so onwards and upwards.
Next up on the list of must have visitors was Fred Crowell, raconteur and wooden genius - no, he's not made of wood, although one of his legs might be, anyhoo, a prodding an' a poking Mk2 gets under way, accompanied by frantic note taking. Its entirely possible we might even have something resembling a plan now, which surely can't be right, although this plan, it would appear does involve the use of a chainsaw, so think I might have to number No2's fingers, although I may be doing him a disservice there, as last week apparently, he made the circular saw work finally (you have to press the button on the handle

) and managed to chop some wood in to stove sized lumps. So... the chainsaw..., we need to replace some deck beams, and after a bit of discussion, the advice was 'remove old deck with chainsaw'. Need to really think about this one though, as Fred, bless 'im, just before the chainsaw advise had been telling us about his close friend that had just been prosecuted and struck off, in hushed tones, he informed us that his chum had been found guilty of drugging and having sex with his patients. Shocked to hear this revelation, we leaned in further to hear Fred speak in most reverential tones as he went on to tell us what a tragedy it was as his mate was apparently a really good vet...
He gets us every time! So... the chainsaw... yes apprently he is serious, remove old deck with a chainsaw


Plan goes roughly - chainsaw between beams and knock out the planks, remove beamshelf, knees and cover board, remove manky deck beams with stubs of decking still attached (glad about that, wasn't looking forward to pulling nails) remove frame heads that are a bit iffy, replace deck beams, knees, beamshelf and coverboard, then re-plank deck- -piece of pish!!
So, post Fred, Fags and hot chocolate (we've run out of bovril), time to go down below for a bit more knocking down of stuff.
Still utterly confused about the internal bits. the walls/bulkheads are constructed of some seriously heavy mahogany planking, absolutely gorgeous stuff, all cut obliquely, mitred and fastened.... which has then all been faced over in plywood, which was then faced over with formica - go figure


least ways, we've a nice fat (& expensive) pile of mahogany to reuse when refitting, although, it has to be said, privacy has been somewhat compromised when using the dunny, and anyone kipping port side is likely to get rather hot feet now, although, thats unlikely as the bunks are coming out tomorrow(ish)
anyhoo few pics to be going on with (note to self - take proper camera, phones take crap pictures)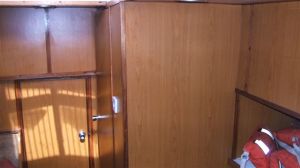 Once there was a 'little boys room' where, apart from the door falling on your head, you could poop in peace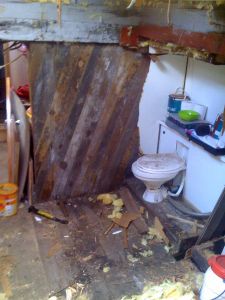 I guess you'd have to be a bit desperate, and not shy if you need to go now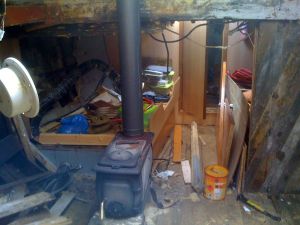 Least your toes will be toasty warm in bed in the winter, although nylon sleeping bags might not be a good idea
*PARP*
When a number 2's gotta do number 2's, a number 2's gonna do number 2's! It's the rest of the crew my heart bleeds for. Perhaps the dangerous levels of noxious gas that built up on trip out number 3 were due to the confined nature of the toilet cubicle. We're in the Common Market now, surely it's ok to drop your pants in front of the family and have a poo in the street like they do in Paris (and Italy)
No feedback yet

Comment feed for this post
Leave a comment