By mark on Nov 23, 2009 | In Fixing stuff | 3 feedbacks »
Had a new, and hitherto reluctant helper today, I believe the correct term may be 'boat widow'. Think she may just be pitying me or trying to humour me a bit though.
Time to get the seams caulked and the last few lengths of deck plank laid. The planky bit was easy, kinda got my eye in now, although, there'es still one short nibbing piece about a foot long thats still not nailed down - ran out of sikaflex!
So after giving my nearest and dearest a quick crash course and handing her an 'ammer, a ball of cotton and the caulking irons left her to it while I cleared the decks and started oiling. Home brewed 'boat soup' being the concoction going down, linseed oil, thinned right down with naptha to let it get deep into the wood, and a very large dollop of Stockholm Tar which had been heated sufficiently to make look a bit less like a tin of Tate & Lyle Black treacle on a very cold day
Said mixture mixed up thoroughly and thrown about the place, got a good 9 or 10 coats on half of the deck, so they're colouring up nicely. just another 40 or 50 coats to go maybe, reducing the thinners gradually till its just raw oil and the wood can't take any more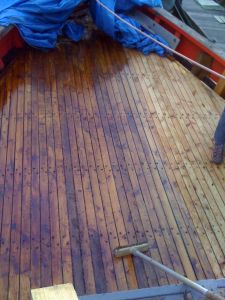 Determined to lash enough of the stuff down to keep the rot and nasties at bay for a very very long time!
Over on the other side the fair hands of best mate TK got to work on the cotton & caulking combo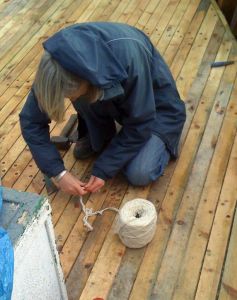 She can knit, so obviously its a natural progression. Least thats what I told her anyway. Twist the caulking cotton nice and tight, feed it in and then harden it up with the caulking irons - simples!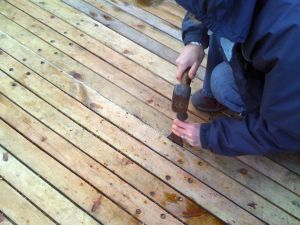 tappety tap tap! If she didn't hate me and the boat before, after being bent over caulking the deck all day she probably does now. I will report back next time she ever answers the phone again
Long way to go on the caulking from yet though, but already the seams are tighter than Peter Mandellson's arse on national 'insert a pineapple in your favourite politician' day
Once caulked up, there'll just be the seams to pay (cash or cheque??) and that'll be that.
3 comments
Comment
from: Mike [Visitor]

·
http://www.diy-wood-boat.com
With all that Stockholm Tar she will at least smell better than Peter Mandellson's arse, with or without the pineapple.
01/03/10 @ 10:37
Looks like it is taking good shape. You can never be accused of not sealing it anyway, that's for sure.
01/02/11 @ 11:09
Good post. I definitely appreciate this website. Stick with
it!
05/13/12 @ 21:39

Comment feed for this post
Leave a comment