By mark on Jan 3, 2011 | In News | 4 feedbacks »
Just on the off chance that anyone out there is looking for a boat, here's a rare opportunity to a acquire a historic boat that is up for sale and is still pretty original. Lots of History and was built 1934 by Millers (eligible to go on the register of historic ships), good Gardner 6LB & yanmar powered generator in her and already converted to live aboard. She was out of the water not long ago and antifouled and the stem re-nailed. She was also fully coded till a few years ago and has all the safety gear and electronics fitted and is ready to steam pretty much anywhere. Sadly the owner passed away not so long ago, and the family are needing to find her a new owner as soon as possible. The family are willing to let her go for a very sensible price too - boats of this age and condition are very hard to find these days and most of the old scottish MFV and trawler conversions are anything but sympathetic to the beauty of the original boat
If anyone is interested contact me and I'll will pass on the details to you
/**
UPDATE
just a note to say Hyperion is no longer for sale. She sold for the princely sum of £1000.
A real bargain for some one I'd say!
**/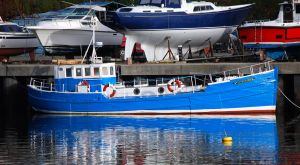 Hyperion - 49' Scottish Seine and Ring Netter built by Millers at St Monans in Fife and up for sale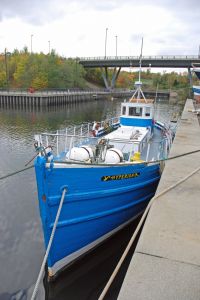 Up for sale and ready to steam anywhere
4 comments
Comment
from: William B. Kelleher [Visitor]

You have two, why not three???

I think I better go hide now. LOL

Bill Kelleher
01/05/11 @ 21:32
Comment
from: mark [Member]

3?? it might even be 4... looking at what could possible the oldest surviving Fifie in world as well!
01/05/11 @ 22:16
Comment
from: William B. Kelleher [Visitor]
I worry about you. LOL

Good luck with whatever you do.

Bill Kelleher
01/06/11 @ 23:28
Comment
from: mark [Member]

ahh but they are such gorgeous wee things someone has to save them
01/06/11 @ 23:32

Comment feed for this post
Leave a comment