By mark on Feb 14, 2009 | In News, Fixing stuff | Send feedback »
I'm sure there's some hi falootin' word to describe a cannibal that eats themselves, whatever that word is, we've turned Pansy into one.




Install a fire and burn the bits of the boat we don't want any more
indeedy, what used to a useable saloon is, well, a little less glamourous than it once was.
Sealed behind all that formica type panneling, lay the heart of the beast. Formica is great stuff, well known for its ability to keep nasty wet water out of nice friendly wood, or in this case, the opposite, keep the nasty wet water inside, the result being that behind the shiny brown 70's chic fascade the poor old girl was moldering away, so we can add that to the list of old lady's ailments - wetting themselves, setting fire to themselves and now fungal infections down below in places its not polite to look, let alone poke with a screwdriver
so when we bought her she looked like this in the saloon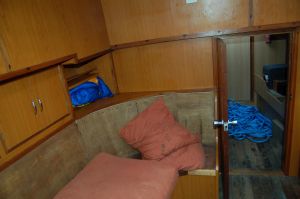 so, take a reasonably well converted fishing boat and un convert it as part of a re conversion (eh?)
So...... to follow on from No 2's and No 4's efforts last week, well I think it was number 4, but frankly having run out of fingers on one hand since playing with sharp chisels I've lost count, any hoo, following on from some knocking down that occured between bovril fixes, some more knocking down took place today, so the saloon is looking a little less 70's chic and a little more Gaza chic.
behind the shiny brown 'not wood but would like to pretend to be' stuff was some 'real wood but possibly not for much longer' stuff. the damn formica has been holding loads of the the wet stuff and it has been doing its worst, or at least attempting to, some rather soft and punky bits here and there and lots of fungussy stuff growing with gay abandon (not to be confused with Gaye Advert from the 70's punk band BTW) so out it comes, revealing a lovely mahogany bulkhead which when cleared of the white fungussy stuff and lovingly sanded and polished will be quite nice, behind where the 'seats are for sitting on not sleeping on' was, there appears to a curiosity as yet unexplored, behind the plywood on the left of the pic is a void about 18" maybe more of dead space. This will either reveal itself as
1: An excellent space to accommodate a 'seat for sleeping as well as sitting on' (possible),
2: a damp fetid hole filled with wet rot dry rot and stowaways of the wood munching variety (alarmingly possible)
3: will be a huge wall of water in a Poseidon adventure stylee containing the remains of Shelly Winter (undecided, but worth getting sunday sport photographers in just in case)
Anyhoo, out some crap bits came, in came a new metal bit, and the new metal bit's job is now to consume all the nasty things. And consume it does. The old girl has probably not been that warm in years. Need to go google the effects of inhaling smoke produced by new paint burning off a hot stove to see if I'm going to be dead by the morrow, but other wise a bit of a landmark sorta day generally
the thrice conversion of a re-converted unconverted conversion in the process of being converted to a proper conversion. or something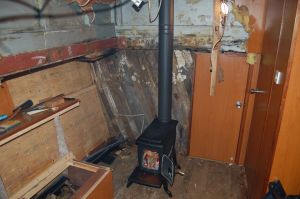 so, after we un converted the conversion as part of converting it we have fire!
*Oi Oi*
What he said + we made huge amounts of smoke and an unbelievable volume of noise for quite a while. I quipped to The Skip "What do these people expect living in a marina" then realised I'd got "Marina" mixed up with boatyard / recycling plant / building site. People what live in marinas expect to hear the chink of ice in a G&T, the cooling sighs of a well honed graduate as she slips out of her goretex underwear, that comforting yet faintly homicide invoking sound of rigging slapping off of an aluminium mast, the odd guffaw. That type of thing.
No feedback yet

Comment feed for this post
Leave a comment