By mark on Jan 8, 2010 | In wierditude | Send feedback »
remember the cunning plan? 1:1 scale model trawler in kit form??
well thats on hold, its snowed (a bit) and got a bit chilly, so my beloved planks of elm are a bit well, deep frozen: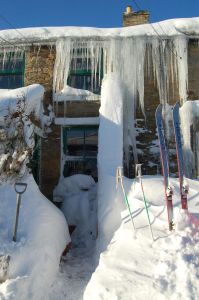 anyone know what the effect of a bit of snow and ice are on rock elm??, maybe I just invented the worlds biggest snow board
as well as a bit of snow, its also been a bit chilly, causing the odd icicle or 2 form: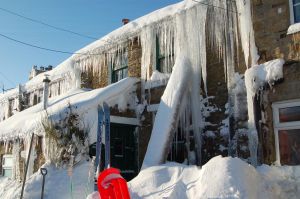 on the plus side, I won't run out of ice for my vodka for weeks
so while the rest of the country has been in the full panic mode that only home counties english media types are capable of when there's 2cm of snow on the ground, I've been snowed in at home since boxing day, with snow that is waist deep everywhere and drifts in excess of 15' and temperatures down to minus 17
I'm getting wood whittling withdrawal symptoms. even though I've got bits of wood to whittle here at HQ, some of it even ice free and toasty on account of me having hidden it under the bed. but alas I've nothing to whittle it with - all the tools are on the boat, so I've taken to inventing stuff instead. So far I've invented loads of things in my head.... gravity powered 3D glasses so when you are driving you can see the road ahead, trees and things like that in 3D, that sort of thing
but with the thing I am most proud of is actually real as well, Bovril with vodka, it's great and has become my 7th most favourite drink of all time
I really need to get out
*Wheeeeeeeee* Oops me pipe's frozen.
Skipper, you've lost it mate - for the gravity powered bins you'd need a gravity powered head. If it was gravy powered then I'm your Chuck Jaeger(?).
Add dried noodles to the Vodkril and away you go scrapper

No feedback yet

Comment feed for this post
Leave a comment