By mark on Oct 31, 2009 | In News, wierditude | 7 feedbacks »
It may have been noticed that No 2 has mentioned fire a few times when he's poked his head in here. Keeps mentioning something about 'the little people' telling him to burn things as well.
Had a toddle down there to day to discover him in full pyromanical flow. Safety goggles, kneed pads, overalls, safety gloves... I got 'im sussed out now though - if you dress vaguely like a workman people might think you are actually doing something! Although I had to decline his request for a full face safety visor - he was worried his visog might suffer a temporary aberration by 'stuff' landing on it
but doing summats he was, a new technique by all accounts for removing the remaining 'tarmac' from the deck - set fire to the boat. wait till its burning nicely, then scrape the pile of fire somewhere else..... can you get piles of fire?? (thats not a medical question btw)
the idea being the little bonfire has softened the asphalt enough to render it vulnerable to scraping type things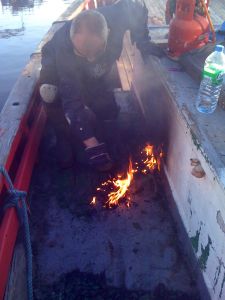 Known for his health and safety concerns, No 2 demonstrates his love of all things firey
the eagle eyed among you may spot something that is generally accepted to be in the 'bad thing' category when talking of wooden boats... yes we're growing our own 'shrooms on the coach roof. Well someone had to, and I bet no-one else has thought of it either
7 comments
I got hit in the lip by a bit of brimstone, 2 bits went down me gloves and the smoke chased me all over the deck - which was nice.

Skipper still won't tell me what my log in details are, I refuse to even try the word "Ringpiece"
10/31/09 @ 23:37
FFS I only reset and sent it the other day!
10/31/09 @ 23:41
Err could you send them again, i think i may have smoked the last message!
10/31/09 @ 23:44
done via the power of somewhere else
10/31/09 @ 23:45
At least your mushrooms were outside, it was so damp INSIDE that I had them growing out of the Kahzi bulkhead. Yours look like the same variety, definitley not magic.
11/01/09 @ 21:53
Remember the mushroom is the friut of the fungus. The bulk of it is in the wood
11/04/09 @ 00:27
indeedy. the whole of the coach roof is getting despatched shortly
11/04/09 @ 09:36

Comment feed for this post
Leave a comment