By mark on Oct 17, 2009 | In News, Fixing stuff | 5 feedbacks »
Just when it was all going so well. the drizzle cleared away, it even warmed up a bit, the tarps were off, chance to get some more of the deck laid. Busy day down there today, lots of boaty comings and goings, and a few people dropped by to say howdy doody which was canny, so had the makes of a good general messing about in a boat sorta day, On me todd again, and cracking on with the deck, got a few more down, definitely into the groove with that now, but a major disaster right at the end. Got a few of those jobs that we put off for a few years to do back at HQ. The sort of little jobs that only take an hour and we really should of done a long time ago, and our nearests and dearests have indulged us by not having a go about them. So thought, right then sunday, finish a few things around the house. Need to take some of my tools home for that so, clambered around the deathtrap for a bit gathering things together, packs a tool box nice and neatly, and fills a plastic storage box with all the necessary power tools for the job......
so there I am struggling down the pontoon, big heavy toolbox and box full of power tools when disaster strikes, storage box gets dropped and power tools go swimming, so lurking somewhere in St peters there's now a router, a jigsaw, a bosch cordless drill, a dewalt cordless drill and several boxes of router bit, drill bits, screws etc - gutted
The good crew of 'Escort' lent a hand and had a fish about for a bit, but all that came back was a cheapo electric drill, thanks though lads, much appreciate the morale and physical support!
So might be a bit of a pause for a bit on the fixing front till till I finally find a magic money tree to replace some essentials
anyone wanna buy a boat??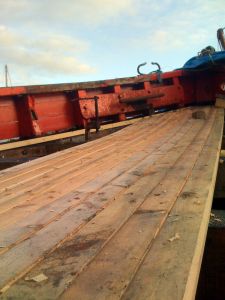 and it was all going so well! At one point I even had a self indulgent jump up and down for a bit on the new deck - just because I can!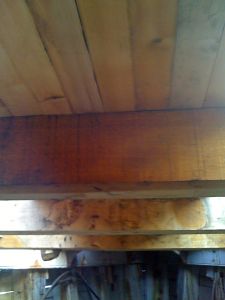 it even looks nice from underneath
5 comments
Stumbled upon your blog last night, and could not get enough of it. Laughed and cried, but mostly nodded knowingly to myself. I own ex-admiralty MFV 797 (it's on the NRoHV website), and am still treading that long lonely road of refit/rebuild after 13 years. Re-planked. re-framed, new deck beams, new deck and am currently building a new shed/caravan/deckhouse, next stop the engine! Good luck and keep it (end/boat/good work etc.)up.
10/19/09 @ 23:16
Comment
from: mark [Member]

glad to here were not the only like minded nutters out there! 13 years??? that a life sentence almost!!almost begs the question, if its anything like the hours I've been putting in of how many divorces have you been through in that time!
10/19/09 @ 23:22
1 wedding and two arrivals!. They have slowed things down a bit, maybe I should sell them for a heap of oak.
10/20/09 @ 00:03
Comment
from: mark [Member]

got a great source of oak if you need any
10/20/09 @ 00:06
Do bears shi....... Green or dry? Not sure how to do it via the blog but I do have the odd (really odd!) picture if you would like to see. However, off to Poole tomorrow for a week, so better hit my bunk.
10/20/09 @ 00:13

Comment feed for this post
Leave a comment