By mark on Apr 1, 2009 | In News | Send feedback »
We're now officially masters of all we survey (I think). The surveyor came down to day, (cue dramatic music) gave the old girl the thrice over.... Actually wasn't quite as bad as we(I) we're expecting, although I've yet to see the full report, but overall, she's not in bad shape for her age, ok, there was the obvious rotten bits we knew about already, but not many unknown nasties were revealed, few extra dodgy knees that weren't anticipated, beamshelf is a bit iffy, possible dodgy cock down below (caught that from me maybe!), but over all, I think we've got away with it for now! enough to keep the insurance vultures happy any way
And what a thoroughly nice chap to boot. Plenty of surveyors around, but not many that really know their onions with wooden boats (wooden onions anyone??), knew exactly what to expect, what is normal, and what to address. He was even recommended by our insurers, so, they should be more than happy with the result. So if any one needs a good surveyor, with the knowledge and enthusiasm for wooden boats, give us a shout, we know a real diamond geezer as I believe they say darn sarf
Whilst awaiting his arrival, more 'a rippin an' a burnin' took place, not a great deal left down below apart from the netty walls, and they're next on the list, so once where there was a kitchen sink.....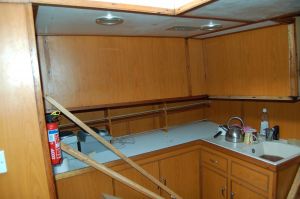 backwards conversion! First you need a converted fishing boat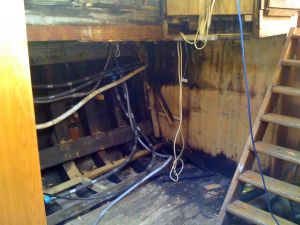 Then you un convert it back to what it was before starting the conversion process all over again - simple huh?
there's now just some nasty wood, cladding the engine room bulkead, oh yeah and quelle suprise, some more ballast, and a few more redundant skin fittings and seacocks. Getting away from ripping an burning, thought I'd have a peak in the rats nest of wiring at the helm and have pretty much decided, like everything else on the old girl, to bin the lot and start again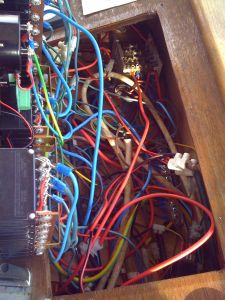 The rats nest awaiting awaiting the wire cutters
best bit of the day for me though, was provided on the PM program on radio 4 (Charlotte Green sounds even better heard on an old sailor radio BTW), interviewing a few of the protesters that had the temerity to show their distain at the corporate breadheads and bankers that have been bleeding us dry for the last few years, by way of a wee demonstration in the city of london.
Despite having to put up with being used as sheep by the Metropolitan Stasi (horsey division), to practice for their entry in to the team event of one man and his dog, this one chap had managed to keep his sense of humour. When questioned as to why he was at the demonstration, the quote of the day was "I don't really have any political opinions, I'm just here for the violence" rock on fella!

No feedback yet

Comment feed for this post
Leave a comment