By mark on Oct 11, 2010 | In News | 5 feedbacks »
Anyone remember:
Pansy gets her name back
Well today was a bit of an occasion. Quite a major landmark in my sad little world! Pansy really did get her name back. The name boards I made 2 years ago finally made there way aboard.
An important thing for any vessel, and one that warrants all the pomp and circumstance that can be mustered. Royalty, celebrity, a politician or Jordan were what was called for (lets face it Jordan would go the opening of an envelope!)
Lizzie was not returning my calls, the chuckle brothers had a prior engagement and Janette Crankie is apparently being sent down a small hole to entertain miners in chile, So next it was the politicians. Tried Richard Lochead and a few other government ministers but they were all away in Brussels negotiating an EU subsidy for KY jelly (all on expenses of obviously), This is of course all part of their helpful 'scheme' to help Scottish fishermen when they are forced to take it up the tradesmen's from the rest of europe once again.
It will of course be KY Jelly that is issued on a quota basis and will obviously be specially approved and distributed by a quango at £8 million pounds a tube, a price they fought vociferously to get a reduction on from the £3.59 that Tesco's wanted to charge. So another fantastically successful round of negotiations there then
They did at least get a reduction in nozzle size so its not all bad.
Oh yeah, and Jordan was apparently doing something to a horse.
Bugger it, better do it myself then. So I did, and then sat back with a mug of tea and a fag to take stock. There was a reward of sorts though. It was low tide (not that is a reward in itself usually) and a rather nice young lady stopped by and leant on the railings up above to say hello. Clearly she was a Byker lass born and bred. Mid october, mini skirt and no knickers!
I nearly spilt me tea!
any hoo, piccies: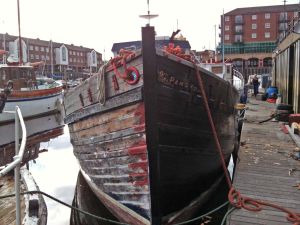 A before and after shot on the same boat! Top 4 (or 5... or 6... who knows!) planks to come off the scruffy side and then repeats as for the nice side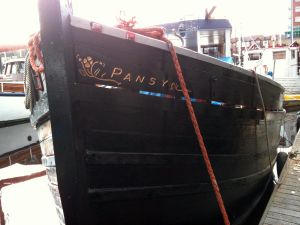 Still cot to add a yellow pinstrip along the gunnels and get the numbers painted back on. Not 100% certain that the nameboard is big enough now though. It looks a bit lost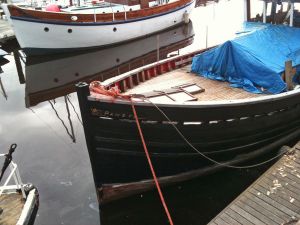 View from above from where my little furry friend said hello! I say furry friend, was possibly more akin to a badly plucked chicken
5 comments
Comment
from: William B. Kelleher [Visitor]
That name board does look nice. :))

Bill Kelleher
10/12/10 @ 01:16
Comment
from: mark [Member]

still not 100% wether I made the boards big enough. Seems a little lost although that might change when the capping rails gets its white paint, and the pinstriping & numbers get painted on as well
10/12/10 @ 12:05
Are you sure she was a Byker lass and not a Windlass?. I think you have got the size just about right. It's odd but I find that with all the large stuff still to do I still agonise most over the tiny details (the colour of a stipe or height of a deckhouse window etc.). Keep it up you're making real progress.
10/17/10 @ 22:47
Comment
from: kevin hughes [Visitor]
was that boat ever called the scotish maid
and was it blue only asking cos my father owned a 52 ft the same boat
10/26/10 @ 21:41
Comment
from: mark [Member]

Hi kevin,

'fraid not. Pansy was always called Pansy right from her launch in the 1930's

was it this scottish maid by any chance:
http://www.trawlerpictures.net/gallery/830_11_03_10_10_49_44.jpg
http://www.trawlerpictures.net/gallery/18_25_02_09_12_37_11.jpg
10/26/10 @ 22:22

Comment feed for this post
Leave a comment