By mark on Oct 8, 2010 | In News | 4 feedbacks »
... to do much today. Damp on the outside and wet on the inside. Glad I went down today, the indoor water feature had re-appeared, bilge pump going off every 6 minutes! Not long now though till that's resolved once and for all. If all goes to plan, she'll be out of the water for the winter shortly, which is going to be an adventure in itself no doubt.
The damp and fog killed off enthusiasm for much else, but did get the the rest of the gunnel planks on, caulked the new bits that needed it an slapped some paint on. Hopefully a good day next week and I'll get it all painted then turn her around and start again!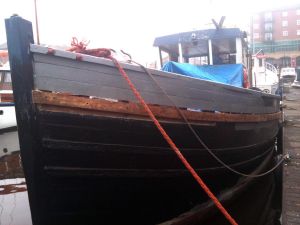 Grey is the new red! I'm so loving the fact there'll soon be no red left anywhere
4 comments
Glad to hear you are going to be able to get her on the hard for the winter. :))

Bill Kelleher
10/09/10 @ 16:55
Comment
from: mark [Member]

Fingers Crossed! might have to go there backwards as the gearbox currently is only going in reverse!
10/09/10 @ 17:00
Comment
from: William B. Kelleher [Visitor]
You do like to make life interesting.LOL

I hope you have a nice BIG rudder.

Good luck.

Bill Kelleher
10/10/10 @ 14:10
Comment
from: mark [Member]

absolutely! hoping to rope a couple of wee boaties for 'tug' duty!
10/10/10 @ 18:10

Comment feed for this post
Leave a comment