By mark on Nov 16, 2010 | In Fixing stuff | 4 feedbacks »
A weekend filled with several bouts of Deja Vu, the main one being looking at the grotty side of a boat again!
Today the sun shone (a bit) so had a wee few hours tinkering. Got the last bit of paint on the port side, which involved an unpleasant couple of hours in the punt - it leaks, as do my shoes, luckily I've got big feet and my shoes leak faster, so got at least 15mins head start on sinking - nuff said!
The frame heads on the Port side were a bit grotty and I've had my eye on them for a bit now. Wire brushed all the punky wood off them last week, luckily the rot is pretty superficial, all on the surface, so brushed em down, got all the flaky bits off and gave them a couple of good soakings in CPES (epoxy stuff), then cleaned up some more, attacked em with a sander and stuck some paint on. Painting being painted , thought I might as well stick the tie board back on too, bit of huffing and puffing and bending of larch and job done.
All very dull and boring, but it will keep me occupied till Will' and Kate's wedding invite arrives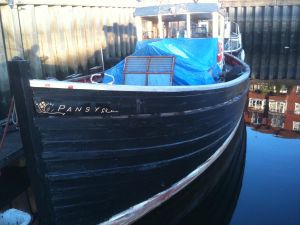 looks canny seen from the front properly.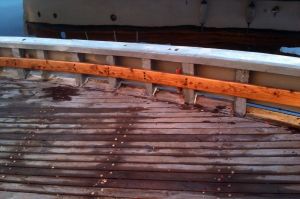 something to ties the tyres back on to if nothing else!
4 comments
lookin good
11/16/10 @ 21:23
Comment
from: mark [Member]

Ta!
11/16/10 @ 21:26
Comment
from: William B. Kelleher [Visitor]
Any luck on getting pulled out of the water ?

Bill Kelleher
11/18/10 @ 01:05
Comment
from: mark [Member]

working on it!
11/18/10 @ 19:42

Comment feed for this post
Leave a comment