By mark on Oct 23, 2009 | In Fixing stuff | 9 feedbacks »
Quick up date after a bit more nail bashing the day. Its entirely possible that I've now become a woman as I can multi-task (apparently) spent the day with the WhyAyePhone glued to one ear, plane in one hand, hammer in the other, nails clenched between buttocks and shoving planks through the table saw with me foot - a man (or woman possibly) has got to do what a man (or woman) has got to do, if this thing is ever likely to look like a boat again before I die.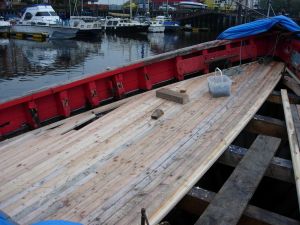 Pansy the 'half decker'. The final leg of deck repairs (almost) just another half to go, and cover boards, and caulking, and seam filling, and sanding, and oiling and...... Ok miles a way yet then from being fully repaired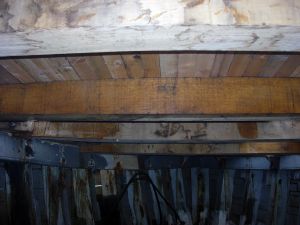 view from below... watertight? buggered if I know!
9 comments
Fook Me, The Pansy is actually starting to look seaworthy, Cudos!!!

She is the type ship I would actually consider going to sea in myself, cough, cough, sorry bit of phlem there ha ha.

Looking Good!!!!
10/25/09 @ 23:40
the return of Number 3!!

going to sea, that'll never happen!
10/25/09 @ 23:44
I'd have a bit craic but blackbeard won't tell me what my log in details are!
10/28/09 @ 21:25
there's this button you see, that when one forgets one's password, it will email it to one - its cunningly called the 'forget passsword?' link

however when one has probably also forgot ones email address, one might be up shit creek, which is an entirely different sort of address
10/28/09 @ 21:30
maybe I should reset it to something memorable for you? "IamTheBastardSonOfGordonBrownsGoodEye"
perhaps, or something a little simpler like 'ringpiece'??
10/28/09 @ 21:36
You just made me drop my bottle of poppers you cheeky little monkey.

Let me back in man I'm starting to like it out here to much!
10/28/09 @ 21:58
You called me a "ringpiece" what with me a being a number 2 as well. Whatyatryintasaylikes ;) I'll come into my own when it comes down to the important stuff like furnishings (Very light normally compared to engines and samson posts etc), hanging pictures and choosing what computer games we will have on deck.
10/28/09 @ 22:39
Hi Ya Mark H ,
Well You can definitely consider yer project Global now Lads ! I'm in NZ .. Yep the last rock going south 'before ya hit the south pole . I'm tickled pink that another oldie is being saved from "rotten row "
Now , about creosote , Rule of thumb is this ,
Pitch Your boat With in and without . This is a simple recipe , Coal tar outside , pine tar inside . though if you are a bit concerned about the rot Gig in the bilge's ,, You should consider a dose of Zinc Napthanate on your Bilge soup . Same stuff basically as Standard Metalex . ( local name here ) Metalex is green and a ,,,,, to paint out . The other is clear , and far less toxic than tar .
See Ya ,Mark,SS

10/29/09 @ 07:53
How phlegm boy - we're putting a low level sea viewing window next to the back seat so you can't hide fom the big scary sea.
10/31/09 @ 23:41

Comment feed for this post
Leave a comment