By charlie_thompson on Apr 28, 2009 | In Welcome | Send feedback »
*Saveloy*
Skip may be along soon with a bit of an update on the chabble saw - when I say soon, one has to take into account the fact that his typing speed may be 10% slower. (There's pictures and everything

)
This comes hot on the heels of the: "Sawing off of the knee cap with an angle grinder" blip; "Spark in the eye", "Mell hammer thumb" and "Down the hatch" glitches and the minor but nevertheless hilarious "Hopping around on deck like a silent film comedian with a plank nailed to the bottom of the foot" escapade. You see a pattern forming here?
I knew it would end in tears, it's a factual statistically truth that if you don't do anything you stand less risk of hurting yourself. (Yes there may be times when this maxim may not hold true, like if you've been beamed back down to Earth in your underpants onto the middle of the M25, and extreme sloth will kill you - eventually!) but I do believe the fact that I can still count to ten is down to the Skyper doing to much while I am saving myself for a late (and safe) slovenly power walk up to the finish line.
Legal note
The last shift adhered to all Heath and Safety legislation by making sure that everything you could see by peering through the wheelhouse was all stowed away and left in an orderly manner. We had no visual contact with the death trap we left down below.
/** ahem **/
counting up to ten is no big deal, out where I live there's folks that can count up 12, 14 or even 16, depending on what generation they are from and wether the include toes or not
So yes a minor mishap, and apologies to me dear departed nan, who said it's rude to point but I can't do much else at present, could of been worse, could of been the whole finger... Dave Allen did alright, and still smoked plenty of tabs.
I do have a sneaking suspicion that it was all a ploy by number 2 to get me 2 slow down and leave a load of stuff for him to do: the cleverly, and rather loosely place piles of timber surrounding the table saw, the fact that one of the legs of the saw was hovering over a hole in the floor, and the fact that not being all bad, he left the first aid kit in plain view in the wheelhouse, and had even gone to the extent of opening all the big bags in the box to provide easy access. Although that may just have to pre-infect all the dressings with swine flu
It did sting a bit, but the liberal application of bog roll and gaffa tape and I still managed to shift half a ton of ballast out of the bilges, up on deck then along the pontoons into the back of a Scotsmans car.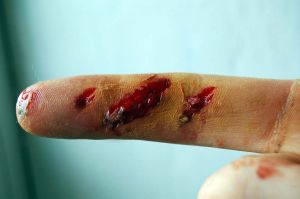 Its only a scratch, although there's the odd shard of bone in there somewhere
No feedback yet

Comment feed for this post
Leave a comment