By mark on Feb 15, 2009 | In Fixing stuff | Send feedback »
Even the Queen didn't have a tennis court on her boat!
Decided its not tarmac, maybe the stuff they make all weather tennis courts out of??!! Tried hell fire and brimstone to shift it. Nothing doing. The miniature F15 jet engine with full afterburners was even struggling, then thought what the hell, get the Kango out. This must surely be the first time ever that a boat has had its deck stripped using an SDS demolition drill, but bugger me it works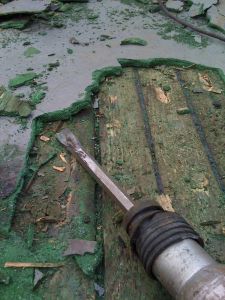 15mm all weather tennis court on deck, matches the roof tiles and cobbled bilges I guess
So a wee bit of drilling took place. Is it drilling or hammering with these things, drimmering maybe?
No 2 looked on offering helpful advice suggestions like "can we not just replace the whole deck?" or "should just board the whole thing over?" Half an hour so of drimmering and a couple of square metres of woody stuff was revealed. Looks promising. camera phone pics so not the best but, hey ho.
Managed to burn a few more bits of the boat in the new metal thing as well. Positively toasty it is down below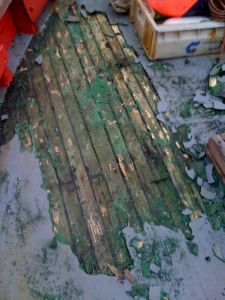 lo and behold, there's actually some wood under there
*Oi Oi*
I'm getting quite good at the burning thing but need a bit of advice on the "How to stop things burning" front. Filled the beast up with wood, fiya and turps and then had to hang around for 4 hours waiting for it go out. I'm guessing cold water may crack things if poured down them 2 holes on the top? Got the chance to read the MachineMart catalogue from back to front though. Can we have one of them "Compressors" please skip? No idea what they do but they are big and have knobs and on. Quite liked the blue but we could always spray paint it yellow for a laugh.
No feedback yet

Comment feed for this post
Leave a comment