By mark on Jan 22, 2009 | In News, Fixing stuff | 2 feedbacks »
After a few sedentary weeks, had a bansai moment today. Plans have been formulated and a schedule of works drawn up, so hopefully the next few weeks should see major progress. Fab news from our newest bestest friends at the Historic Ships register. We applied for a grant for the upcoming graft and they have duly obliged. I knew all those lottery tickets weren't bought in vain!
Seriously a big big help, and very grateful for it we are too
Spent an hour up front, as most of you are aware, old ladies, as well as wetting themselves down below and setting fire to themselves from time to time, suffer from bad knees, Pansy is no exception, her knees are rotten, well some of them anyway (loads of knees but no legs?? how does that work then?) so took lots of measurements, prodded and poked and am going to set about my neighbours Oak tree with an adze in the morning, but the bad knee thing might be contagious, am also afflicted with a bad knee my self (possibly in need of a knee tablet in fact). during my bansai moments there was a bit of slippage with the grinder, and cutting disk and knee had a brief liason, so am now sporting a comedy scar right across me left knee.
the grinder was brought out to play to get rid of some stick up bits that had sort of welded themselves in situ. Galved stanchions sat snuggly in non- Galv'd steel sockets for a few years and they'd become rather attached to each other so had to be cut away. So no stanchions or guard rail anymore and the gunwales only a foot high. Its only a matter of time till there's an 'Only fools and Horses' comedy moment and someone leans back to take the weight off......
With them out of the way there was a power tool frenzy for a few hours and the years of paint are now gone.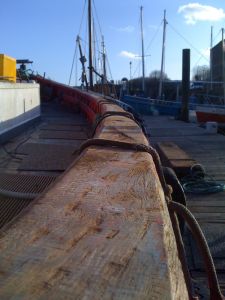 ooh look some wood!
We did also turn her around last week. Made us feel loads better as the really scabby bits are on the outside now, out of site, and do therefore, no longer exist
And finally, quote of the last fortnight has to come from me unfortunately. That quote is "where've the stairs gone"
This utterance was heard as I hung upside down after stepping backwards down into the saloon a little more ambitiously than normal. I was also, somewhat more unfortunately wearing a Frank Spencer beret at the time
*Oi Oi*
Aye, Skipper is slowly but surely removing things for No. 2 to lean on! We'll end up with a raft and unfortunately I will have no option but to lie down on the job. Thanks for reminding me of "The Hatch" incident, never seen a man's legs bend so much. Still laughing!
2 comments
Is that the Favourite in the background?
01/25/09 @ 22:40
Comment
from: mark [Member]

yes thats the Favourite behind her, and Rachel Douglas side on!
01/25/09 @ 23:15

Comment feed for this post
Leave a comment