By mark on Oct 15, 2009 | In News, Fixing stuff | Send feedback »
Any one remeber Top Deck - that sugary sweet drink that passed itself off as shandy way back when? used to love it when I were a lad!
Any hoo, more revelevant deck repair matters to report, been down and done a bit today, quite chuffed with me bit self and still have all my fingers as well (I counted them all out and I counted them all back in!)
first little(ish) job was to fit sweep boards or a nibbing piece or a coverboard mould - depending who you talk to, or I as prefer to call it, that curved bit of wood that runs around the edged of the deck before the covering boards!
Next, time to lash the first plank down. The planks need a bevel first though, for caulking and deck seam sealer and stuff later on. First thoughts were plane the plank bevels by hand. Took the lazy route though and got jiggy with power tools. Made a jig for the chabble saw, well, I say made a jig, I clamped 2 bits of wood to the table to guide the planks through, dropped the blade, set it at a suitably jaunty angle and hey ho, whizz a plank through and a nice bevel and no fingery accidents
Next up get the first plank fixed, easy really, mark the centre line and nail the bugger down. Next plank (and subsequent deck planks) were a bit more problematic. Need to clamp them up tight against the first plank before nailing. Thought about hiring a flooring vice, but there's no way one would fit over the big shiny newly repaired and replaced deck beams, so found a neat solution. Clamp a big clamp to the beam and tap a wedge down to butt the planks together, quick buzz with a forstner bit to make a plug hole, then a little pilot hole and then apply the geet big nail and geet bigger hammer technique:
Simple as! Clamp the clampy thing to the beamy thing then hit a wedgy thing with the hammery thing till the planks are butted up tight. Forstner bit first to make a plug hole, then a pilot drill then big nails!
on a roll now! got a few more in before rain (well drizzle anyway) stopped play, couple of days graft should see the lot down hopefully. Oh yeah and at no point whatsoever today were there any Tom and Jerry moments where I stood on the unsupported end of a plank of wood across the beams causing the other end of said plank to rise up rapidly and whack me in the face at the same instant that gravity decided to suck me down through the deck into the hull. That absolutely did not happen. It also did not happen twice either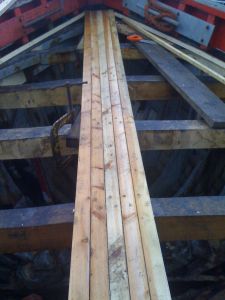 got a few nailed down anyways, so at least I can walk on something other than thin air now
No feedback yet

Comment feed for this post
Leave a comment