By mark on Oct 6, 2010 | In News | Send feedback »
Did a bit more today, weather looks shite for the next few days so going to have to wait a bit longer to get the paint out and turn her around. Discovered another bit of scabby plank so ripped that off and stuck a new one one, stuck the new timber on the gunnels, itching to get the paint out but time was against me. Also ripped the rest of the rubbing strake off! The bit on the back half of the boat is basically sound, but I like the idea of having it all new and matching so the whole lot is getting done now.
Got most of the way down the port side before it was time to call it a day. The nails that were holding it on are in such fine fettle they are going back in again. Seems a shame to waste them. The old rubbing strake is burning merrily on the fire and keeping me warm though!
all in all, starting to look pretty good/
Also had an email from a Pansyite who'd google'd upon us in search of Ford Lehman engine info (a lot of people do!) and has sent me the full Service manual for the 2700 series. A mighty tome at nearly 400 pages, but good to have when the need arises (note the when and not if!)
anyone that wants a copy, or some more Ford lehman manuals and Borg warners manuals I've managed to cadge along the way have a look here:
Ford Lehman Marines Diesel Engine Stuff
Anyhoo... todays whyAyePhone picture: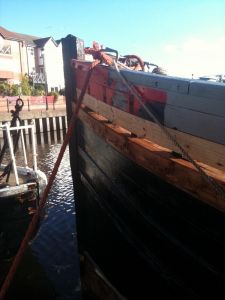 looks canny, but contemplating not painting the rubbing strake but instead, creating yet another rod for my own back by oiling and varnishing it!
No feedback yet

Comment feed for this post
Leave a comment