By mark on Mar 26, 2011 | In News, Fixing stuff | Send feedback »
Like all Scientific experiments, in order to hold true, you must be able to recreate the experiment. So what the hell, time for some more of the groovy plank dance.
This time though, its was a case of one plank off and 2 planks on! Whipped the last one back off again and set to, this time added a couple of big clamps to my juggling arsenal of drills, hammers, nails and wood.
Must have been something not right last time, as this time I managed to get the plank on without even saying any bad words.
In fact, it went so well I did it again just for good measure, so another couple of bits of wood nailed on, just another soft one to come off, and the beltings and rubbing strake and it'll be time to get the caulking irons out again. Might even do another one tomorrow.
Probably worth mentioning that shoes and socks not only stayed on, but both feet (and all toes) returned home still dry as well!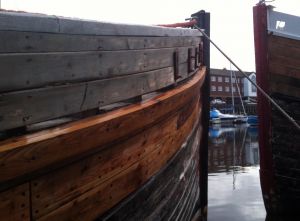 Will maybe share my boat soup recipe at some point. I'm determined these ones ain't gonna rot within a few years like the last ones someone put on did
No feedback yet

Comment feed for this post
Leave a comment