By mark on Sep 14, 2010 | In News, Fixing stuff | 1 feedback »
Couldn't resist, still loads more to do but I just had to. Port side of the hull is now caulked and all the seams have been sealed with putty apart from a couple of bits at the hint end. Stood back an looked and then though 'got to do it'.
Paint! It's been sat there over a year since I bought the damn stuff, so what the hell get some slapped on. I've been feeding the planks with lashing of linseed oil over the last couple of weeks, so thought I'd get them primed and tucked up nicely for the winter
Does make you feel so much better when things are starting to be positive improvements rather than than the endless cycle of pulling things apart. Still the top plank to replace (next week probably) and the beltings/rubbing strakes to re-face but it looks so much better with a bit of paint sloshed on
so, end of this week should see the port side not only primed, but also a top coat on, maybe even 2!
Also going to get back on deck and finish that. Going to abandon the trowel mastic route as life is too short and unexpectedly going to get jiggy with Jeffrey's Glue
If anyone know's who Jeffrey is thank him for me will you!
Jeffrey's Glue adventures will follow soon no doubt, I have notified the Fire department and A&E, so should be a doddle!
then the starboard side, then the coach roof, and then and then and then........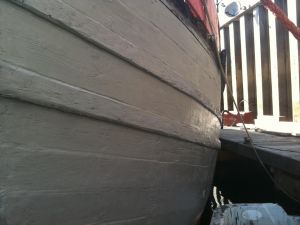 Painted and cauled hull seams after puttying on Scottish Zulu MFV conversion
1 comment
Comment
from: Bill Kelleher [Visitor]
Looking good with the paint on it. :))

Bill Kelleher
Toledo,Ohio usa
09/16/10 @ 02:11

Comment feed for this post
Leave a comment